How to create a font with ligatures.
Ligatures are combinations of two or more characters that are merged together as a single unit. Naturally, almost everyone writes ligatures when writing by hand.
Examples of ligatures:
1.
Follow the steps 1 to 11 of the
tutorial 1
to create your basic font.
2.
To add ligatures you have to first create a template with ligatures, which are then added to your existing font. Go to "TEMPLATES" on the main menu and hit "Arbitrary Ligatures" on the sub-menu. You can now type your own ligatures, which appear naturally in your handwriting. Hit "ADD LIGATURES", the ligatures will now appear on your screen.
Please be aware that if there are old characters left, you might want to remove them first.You can do that by clicking the trash bin on the upper right corner.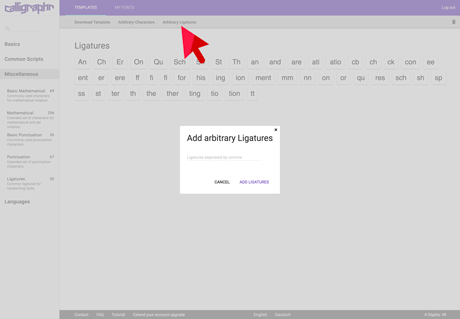 3.
You can also choose our selected range of ligatures by opening the "Miscellaneous" menu on the left and hit "Ligatures". A range of suggestions for ligatures will appear. Delete the ones you don't want by clicking them.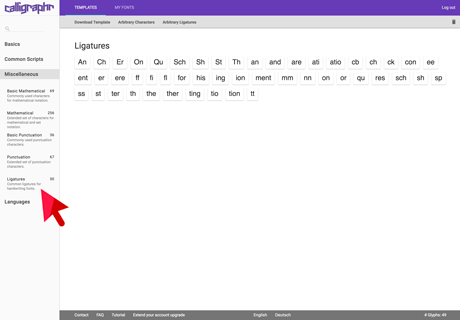 4.
As you did for your basic font, please download and print out your template. Fill it out just as you did before and scan or take a picture of it.
5.
Go to "MY FONTS" on the main menu and select the font for which you want to create variants. Then hit "Upload Template" and upload your new template.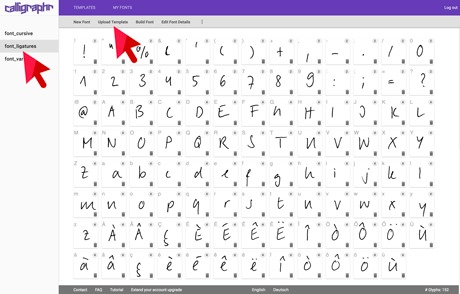 6.
On the appearing dialogue you will see an overview of all your ligatures. You can delete the ligatures you don't like right away. Then hit "ADD CHARACTERS TO YOUR FONT".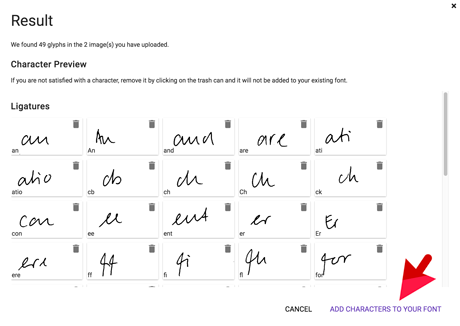 7.
The ligatures will appear under your existing characters, depending on your screen size you might have to scroll down.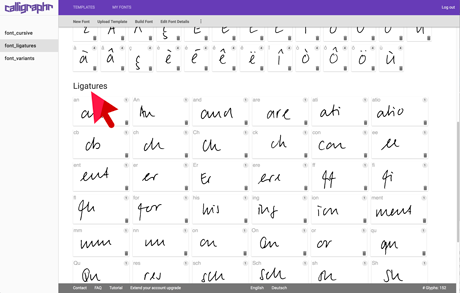 8.
You can edit your ligatures just as the other characters. When you're satisfied, hit "Build Font". On the preview, you can choose to see only your ligatures.